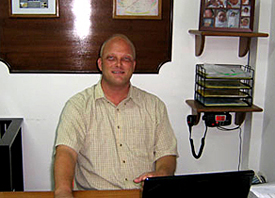 Pro Carpentering or current name is Green MT Co., Ltd. was founded in 2005 by Mr. Mike Hjort from Sweden who has been living in Thailand for more than 28 years.


We are cooperated with our Thai carpenter who has more than 20 years experienced with boat repairing and wood work industrys. we are all together 18 peoples working and we have become more or less a family.
We are now move in to our permanent location at Thalang Distric, Phuket, Thailand which bigger space and easy to find and close to all Marina in Phuket.
with expanding the new business of Solid Wooden Blinds.
We also do kitchen and other wood works. Yes, if you would like your own design on your kitchen we help you to design and build it. Please take a look in our Kitchen studio to see some of the kitchen done.

Look in our Photo Gallery and you will see our reference from previous work done. We also do built in furniture, if you have a corner that nothing fitts in to we can help you to fill that corner.

If you don't find your answer here, just send an E-mai l or call for more information, we will be more than happy to help you out!